How to watch NASA's Artemis 1 moon mission briefings and Megarocket rollout this week
August 15th, 2022
Three NASA Artemis 1 teleconferences and a megarocket rollout webcast will showcase the moon mission from Aug. 15 to Aug. 18.
NASA's Artemis 1 moon mission is poised to launch a new era of U.S. lunar exploration this month. You can learn the science behind the flight (and watch its towering rocket head to the launch pad) in a series of webcasts this week.
Artemis 1 is an uncrewed test flight of massive Space Launch System (SLS) megarocket and its Orion spacecraft, which NASA will use for crewed flights to the moon later this decade.
The planned launch date for Artemis 1 is Aug. 29, with Sept. 2 and Sept. 5 as backup days. The rocket will roll to its pad on Tuesday (Aug. 16), which you'll be able to watch online for free on this page, as well as via NASA's website(opens in new tab), NASA TV and the NASA app(opens in new tab).
NASA's Artemis 1 moon megarocket faces final test before rolling out for launch
August 15th, 2022
NASA engineers are testing the Space Launch System moon rocket's flight termination system ahead of rollout.
Engineers are testing a system designed to destroy NASA's massive Space Launch System moon rocket in case of problems with its impending launch.
Last week, NASA worked to certify the critical flight termination system (FTS) on the Space Launch System rocket, or SLS, which marks the final test before the megarocket rolls out to the pad later on Tuesday night (Aug. 16)  Launch Complex 39B at Kennedy Space Center (KSC) in Florida, according to a NASA update(opens in new tab).
The FTS test is required by Space Launch Delta 45, a U.S. Space Force unit that operates the Eastern Range(opens in new tab). The system would be used to terminate the flight if necessary for safety reasons.
The Space Launch System rocket is due to send an uncrewed Orion spacecraft around the moon and back on what is the Artemis 1 mission. The first launch window is scheduled for Aug. 29. Backup launch windows are set for Sept. 2 and 5. N
Artemis 1 is an uncrewed test flight designed to test the Orion space capsule and SLS rocket for eventual crewed flights to the moon. If all goes well, NASA will follow it with a crewed Artemis 2 flight around the moon in 2024 and the crewed Artemis 3 moon landing mission around 2025, agency officials have said. The project is part of NASA's Artemis program to return humans to the moon and eventually aim for Mars.
But first, the Artemis 1 SLS needs to complete its FTS certification so it can launch. NASA received an extension from Space Launch Delta 45 on Aug. 12 for the certification of the FTS to cover 25 days instead of 20.  This means the FTS certification—required by the Eastern Range to be tested 15 days before launch—will now also cover the Sept. 5 window.
Watch NASA's next-generation lunar Gateway space station build up in concept video
August 9th, 2022
Like a celestial Lego set, a new NASA video shows parts of a lunar station coming together.
Gateway, a space station which will support the Artemis human missions to the moon, will require several assembly missions, shown in detail in a new YouTube video( from the NASA Johnson Space Center.
The new moon-orbiting station will host crews only occasionally, making it distinct from the International Space Station (ISS) that has hosted crews continuously since 2000. But both stations share the capability of rapid assembly by astronauts and machines.
As seen in the video, Gateway's tenure will begin with a power and propulsion element, supplied by Maxar Technologies, docking with a habitation and logistics outpost from Northrop Grumman. Following these, the first crew will come, along with a European Space Agency-supplied I-Hab (habitat module).
The video then shows the sequence of human missions and other elements that will be arriving on the space station, notably including the Canadarm3 robotic arm from the Canadian Space Agency, built by MDA.
Gateway will be used as a supply station for missions to the moon, although NASA has removed it from the "critical path" for the very first missions.
The first mission in the Artemis series, an uncrewed test flight dubbed Artemis 1, will blast off as soon as Aug. 29. Artemis 2, a moon-orbiting mission with humans, is scheduled for 2024 and Artemis 3, a crewed landing mission, no earlier than 2025.
Stunning James Webb Space Telescope image shows stars forming in strange wheel-shaped galaxy
August 2nd, 2022
By Tereza Pultarova
Webb sees through dust and gas into regions out of reach of optical telescopes such as Hubble.
The James Webb Space Telescope peered through dust and gas to reveal star formation in a rare wheel-shaped galaxy that formed in a long-ago galactic crash.
The galaxy, called the Cartwheel for its striking resemblance to a wheel of an old fashioned carriage, was previously studied by the Hubble Space Telescope, but Webb's infrared gaze has revealed a plethora of previously unseen details in the galaxy's structure.
Infrared light, which is essentially heat, penetrates through dust clouds, allowing the James Webb Space Telescope to peer into regions of space that are obscured to optical telescopes, such as Hubble. In the new images, Webb instruments NIRCam and MIRI, revealed individual stars within the star-forming regions in the outer ring of the Cartwheel galaxy, as well as clusters of very young stars around the galaxy's central supermassive black hole, which is also shrouded in dust.
The Cartwheel, located about 500 million light-years away from Earth in the constellation Sculptor in the southern sky, is a rather rare type of galaxy that astronomers call a ring galaxy. Scientists believe that long ago, the Cartwheel was a common spiral galaxy, similar to our Milky Way. Then, about 700 to 800 million light-years ago, it collided with a smaller galaxy.
The crash altered its shape and structure to what astronomers can see today, forming two ring-like structures, one surrounding the galactic center and another framing the entire galaxy. The two rings expand outward from the galaxy's center like "ripples in a pond," the Space Telescope Science Institute (STScI), which operates Webb and is based in Maryland, said in a statement(opens in new tab).
As the outer ring expands, it pushes outward the dust and gas that surrounds the galaxy and triggers star formation, according to STScI. The areas where new stars are being born appear as small blue dots in the image and are scattered throughout the galaxy, but especially concentrated in the outer ring.
The Cartwheel, located about 500 million light-years away from Earth in the constellation Sculptor in the southern sky, is a rather rare type of galaxy that astronomers call a ring galaxy. Scientists believe that long ago, the Cartwheel was a common spiral galaxy, similar to our Milky Way. Then, about 700 to 800 million light-years ago, it collided with a smaller galaxy.
The crash altered its shape and structure to what astronomers can see today, forming two ring-like structures, one surrounding the galactic center and another framing the entire galaxy. The two rings expand outward from the galaxy's center like "ripples in a pond," the Space Telescope Science Institute (STScI), which operates Webb and is based in Maryland, said in a statement(opens in new tab).
As the outer ring expands, it pushes outward the dust and gas that surrounds the galaxy and triggers star formation, according to STScI. The areas where new stars are being born appear as small blue dots in the image and are scattered throughout the galaxy, but especially concentrated in the outer ring.
NASA will preview its Artemis 1 moon mission this week. Here's how to watch for free
August 2nd 2022
Two NASA Artemis 1 webcasts will showcase the moon mission on Aug. 3 and Aug. 5.
NASA is just weeks away from launching its first Artemis flight to the moon this month and you can learn all about the mission in free webcasts this week.
Artemis 1, NASA's uncrewed deep-space test flight of its Orion spacecraft and massive Space Launch System megarocket, is scheduled to launch around the moon on Aug. 29. To set the stage for the mission, NASA will hold a mission overview briefing on Wednesday (Aug. 3) along with a detailed mission briefing on Friday (Aug. 5), and you'll be able top watch both events for free online on NASA's website(opens in new tab), NASA TV and the NASA app(opens in new tab).
"Artemis 1 is an uncrewed flight test, the first in a series of increasingly complex missions to the moon," NASA officials wrote in an announcement(opens in new tab). "Through Artemis missions, NASA will land the first woman and the first person of color on the moon, paving the way for a long-term lunar presence and serving as a steppingstone to send astronauts to Mars."
NASA's first Artemis 1 press conference this week is on Wednesday at 11 a.m. EDT (1500 GMT), when the agency will host a general overview of the mission. The briefing is expected to last an hour and will feature the following speakers:
NASA Administrator Bill Nelson;
Bhavya Lal, associate administrator for technology, policy, and strategy at NASA's headquarters;
Mike Sarafin, Artemis 1 mission manager with NASA HQ;
Charlie Blackwell-Thompson, Artemis 1 launch director at NASA's Kennedy Space Center (KSC) in Florida (the mission's launch site);
John Honeycutt, Space Launch System program manager with NASA's Marshall Space Flight Center in Huntsville, Ala.;
Howard Hu, Orion program manager, with NASA's Johnson Space Center (JSC) in Houston.
After Wednesday's briefing, NASA will host an Artemis 1 media day at its Johnson Space Center, home to the agency's astronaut corps. That media day will be on Friday (Aug. 5) and will include a detailed Artemis 1 mission briefing at 11:30 a.m. EDT (1530 GMT). That briefing will feature the following speakers:

Debbie Korth, Orion program deputy manager of JSC;
Rick LaBrode, lead Artemis I flight director of JSC;
Judd Frieling, Artemis I ascent/entry flight director of JSC;
Melissa Jones, Artemis I recovery director of KSC;
Reid Wiseman, chief astronaut of JSC;
Philippe Deloo, Orion European Service Module program manager, with the European Space Agency.
"The first briefing will provide an overview of the Artemis 1 mission, and the second briefing will dive deeper into the Artemis 1 mission timeline and spacecraft operations," NASA officials said in the announcement.
Artemis 1 is a critical test flight that will launch an Orion spacecraft around the moon to test technologies NASA needs to support the return of astronauts to the lunar surface. It will launch a "Moonikin" mannequin, cubesats and other experiments inside Orion on a trip that will circle the moon and return to Earth.
If all goes well, NASA will follow the Artemis 1 mission with a crewed flight around the moon, called Artemis 2, in 2024. The Artemis 3 mission is the one that will land astronauts on the lunar surface, with SpaceX's Starship serving as the lunar lander for that flight. That flight is expected sometime after Artemis 2.
NASA picks SpaceX's Falcon Heavy rocket to launch Roman Space Telescope
July 20th, 2022
The reusable heavy-lift rocket will launch the new space telescope in 2026, NASA says.
NASA's forthcoming dark matter-hunting telescope has a ride on a SpaceX rocket.
The Roman Space Telescope will launch no earlier than 2026 aboard a Falcon Heavy rocket from the California-based company, NASA announced(opens in new tab) Tuesday (July 19).
NASA will pay SpaceX $255 million for the launch service "and other mission-related costs," agency officials stated. The mission is slated to launch from Launch Complex 39A at NASA's Kennedy Space Center in Florida.
While Falcon Heavy is a largely new rocket  — it has only launched three times, most famously with a Tesla-riding mannequin on board in 2018 — it appears the agency wanted the extra fuel this rocket can carry, over SpaceX's lighter-lift Falcon 9 workhorse.
That's because Roman will be flying to a distant orbit known as Lagrange 2, or L2, which is about 930,000 miles (1.5 million kilometers) away from our planet. This orbit, which the James Webb Space Telescope also shares, is relatively far away from Earth and as such, requires extra fuel to fly there directly.
Working in infrared light, Roman is scheduled to undertake investigations into dark energy and dark matter that are believed to make up much of the structure of the universe.
The telescope will also examine exoplanets using a technique called microlensing, examining subtle "warps" in space-time induced by planets circling their parent stars.
NASA has said wide-field the telescope will be a valuable surveyor of exoplanets to scout for worlds that Webb can see in higher-definition, and that are farther away from Earth than what the Transiting Exoplanet Survey Satellite (TESS) could pick up.
Private Ax-1 astronauts return to Earth, ending historic SpaceX mission
April 25th, 2022
The first-ever all-private astronaut mission to the International Space Station is in the books.
A SpaceX Dragon capsule carrying the four crewmembers of the Ax-1 mission splashed down in the Atlantic Ocean off the coast of Jacksonville, Florida today (April 25) at 1:06 p.m. EDT (1706 GMT), bringing the groundbreaking 17-day flight to a close.
"On behalf of the entire SpaceX team, welcome back to planet Earth," a SpaceX mission communicator told the Ax-1 crew just after splashdown.
Making history
Ax-1 was organized by the Houston company Axiom Space and commanded by former NASA astronaut Michael López-Alegría, who is now Axiom's vice president of business development. He was joined on the mission by three paying customers — American Larry Connor, Canadian Mark Pathy and Israeli Eytan Stibbe, each of whom is thought to have paid about $55 million for his seat.
Stibbe is the second Israeli ever to reach space. He was friends with the first — Ilan Ramon, who died along with his six crewmates in the space shuttle Columbia disaster on Feb. 1, 2003.
Paying customers have visited the International Space Station (ISS) before; indeed, Japanese billionaire Yusaka Maezawa and video producer Yozo Hirano lived aboard the orbiting lab for 11 days just this past December. But such previous flights had always been commanded by a government astronaut — namely, a cosmonaut employed by Russia's federal space agency, Roscosmos. Ax-1 coordinated with NASA and ISS officials, but its crewmembers were all private civilians.
You could also call the Ax-1 astronauts space tourists, but they would dispute that characterization.
Ax-1 is "like a NASA mission to the ISS, and by no means what I equate to a leisurely, tourism adventure," López-Alegría told Space.com during a conversation last year, citing the extensive preparation required and the science work the crewmembers would be doing in orbit. "It's much more than that."
Ax-1 is not the first-all private crewed orbital mission of any kind, by the way. That distinction goes to Inspiration4, another SpaceX flight that spent nearly three days circling Earth last September.
NEW MAP OF THE NIGHT SKY REVEALS 4.4 MILLION GALAXIES AND OTHER SPACE OBJECTS
February 28th, 2022
The vast majority of these objects are galaxies that harbor massive black holes or rapidly growing new stars. Other discoveries include colliding groups of distant galaxies and flaring stars, which vary in brightness, within the Milky Way, according to a news statement from Durham University in England.
The observations were made by analyzing a huge amount of data from the sensitive Low Frequency Array telescope, known as LOFAR, which is using low radio frequencies to observe about a quarter of the Northern Hemisphere's sky and catalog it in fine detail. It's operated by ASTRON, the Netherlands Institute for Radio Astronomy.
1st image from NASA's new IXPE X-ray telescope looks like a ball of purple lightning
February 15th, 2022
NASA's newly-launched X-ray hunting probe has snapped its first science image and — wow — it's spectacular.
The Imaging X-ray Polarimetry Explorer (IXPE) probe launched Dec. 9, 2021, on a mission to observe objects like black holes and neutron stars in X-ray light, shedding much-anticipated light on the inner workings of the cosmos. The probe spent its first month in space checking out its various systems to get ready to capture its first images, and now the IXPE team has released its very first science image.
The image shows Cassiopeia A, the remnants of a star that exploded as a supernova in the 17th century. That explosion sent shock waves outwards, heating up surrounding gasses and accelerating cosmic ray particles (high-speed electrons and atomic nuclei) to create a cloud of assorted matter, according to a statement from NASA. This cloud, as you can see in the striking image from IXPE, glows brilliantly in X-ray light.
It goes without saying that the image is visually stunning.
"The IXPE image of Cassiopeia A is bellissima, and we look forward to analyzing the polarimetry data to learn even more about this supernova remnant," Paolo Soffitta, the Italian principal investigator for IXPE at the National Institute of Astrophysics (INAF) in Rome, said in the NASA statement. ("Bellissima" means beautiful in Italian.)
Now, while the image's most striking feature is its almost-neon magenta color, it doesn't actually look like that in visible light. But this color, which represents X-ray radiation, is a helpful guide for scientists. The more saturated the color, the more intense the X-ray light. Additionally, veins of what resembles blue lightning in the image represent high energy X-rays seen by NASA's Chandra X-ray Observatory.
While the two telescopes both observe X-rays, they have different kinds of detectors so, by working together, they can produce more complete and detailed data, according to the statement.
Chandra's first image was also of Cassiopeia A after it launched all the way back in 1999. Chandra's early observations revealed that, at the center of the remnant, there must be a compact object like a black hole or neutron star.
Huge Tonga underwater volcano eruption captured in stunning satellite video
January 16th, 2022
The new eruption on Jan. 15 spawned a 4-foot tsunami and sent an ash cloud 12 miles high.
A powerful underwater volcano eruption in Tonga on Saturday (Jan. 15) was captured as it happened in stunning images from an Earth-watching satellite, showing the sheer power for the explosive event in the South Pacific.
The volcano eruption on the island of Hunga Tonga-Hunga Ha'apai is visible as a spectacular explosion in views from the GOES West Earth-observing satellite operated by the U.S. National Oceanic and Atmospheric Administration (NOAA). A video of the eruption shows a vast plume from the volcano rising high into the atmosphere like a giant mushroom during the eruption as a shockwave extends outward from Hunga Tonga-Hunga Ha'apai, one of the 170 islands that make up the South Pacific kingdom of Tonga.
The eruption spawned a 4-foot tsunami that hit Tonga's capital of Nuku'alofa, which is about 40 miles (65 kilometers) south of the volcano. A sonic boom from the eruption was heard across the Pacific Ocean, reaching as far away as Alaska, according to the Associated Press.
Nuku'alofa was reportedly covered in a thick film of volcanic dust, according the AP. There have been no official reports of injuries or damage from Tonga's capital, but its internet access was interrupted by the event,  the AP added.
Bits of asteroid Ryugu are among 'most primordial' materials ever examined
December 20th, 2021
Two new studies reveal surprising features of the asteroid Ryugu.
Tiny particles of rock gathered from the asteroid Ryugu are some of the most primordial bits of material ever examined on Earth and could give us a glimpse into the origins of the solar system.
Asteroid 162173 Ryugu measures about 2,953 feet (900 meters) in diameter and orbits the sun between Earth and Mars, occasionally crossing Earth's orbit, according to Live Science's sister site Space.com. The carbonaceous, or C-type, asteroid spins like a top as it hurtles through space, and like other C-type asteroids, Ryugu likely contains material from the nebula (giant cloud of dust and gas) that gave birth to the sun and its planets billions of years ago, scientists think.
In 2019, the Japanese spacecraft Hayabusa2 collected samples from the surface of Ryugu, and on Dec. 6, 2020, those samples were successfully transported to Earth in an airtight container tucked inside the reentry capsule. Now, in two new papers published Monday (Dec. 20) in the journal Nature Astronomy, scientists present results from the initial analysis of these remarkable bits of space rock.
NASA's Artemis 1 moon mission slips to spring 2022 after engine issue
December 20th, 2021
The uncrewed moon shot on the 1st SLS megarocket won't fly until at least March, a month later than planned.
Rocket woes have again delayed NASA's return to the moon.
The agency is now targeting a launch in March or April 2022 for its Artemis 1 flight, an uncrewed mission around the moon and the first flight of its massive Space Launch System (SLS) rocket. NASA was previously targeting Feb. 12, 2022, for the flight, which is the first in the Artemis program that aims to return astronauts to the lunar surface later this decade. But hiccups in the mission's integrated testing program have forced another schedule delay.
"After performing a series of inspections and troubleshooting, engineers determined the best course of action is to replace the engine controller, returning the rocket to full functionality and redundancy while continuing to investigate and identify a root cause," NASA officials wrote in a statement published Friday (Dec. 17). "NASA is developing a plan and updated schedule to replace the engine controller while continuing integrated testing and reviewing launch opportunities in March and April."
The SLS rocket includes a core booster equipped with four RS-25 engines, each with an independent flight controller that NASA describes as the "brain" of the engine. Each of these flight controllers can operate on two channels to offer the system redundancy. Earlier this year, the Artemis 1 rocket successfully tested its full launch procedure while anchored in place, but now one of the channels of one of the controllers is acting glitchy, hence NASA's decision to replace the system.
The full Artemis 1 system, including both the SLS rocket and the Orion spacecraft, is at NASA's Kennedy Space Center in Florida undergoing final tests before launch. Among the completed tests are procedures that check how ground systems communicate with each part of the mission hardware.
Several tests remain before NASA can commit to a launch date. Those outstanding items include simulating the countdown procedure, filling the rocket's tanks with fuel and installing the systems that will abort a flight if something goes wrong.
The culmination of Artemis 1 testing before launch will be what rocket engineers call a wet dress rehearsal, during which crews execute each step of launch preparations, including filling the rocket with propellant. NASA is waiting for that test to be successful before it will officially commit to a launch date.
How to watch SpaceX's Crew-2 astronauts return to Earth today
November 8th, 2021
Departure is scheduled for 2:05 p.m. EST (1805 GMT) on Monday (Nov. 8).
CAPE CANAVERAL, Fla. — The astronauts of SpaceX's Crew-2 mission are scheduled to leave the International Space Station on Monday afternoon (Nov. 8), and you can watch the action live online.
After spending just shy of 200 days in space, NASA astronauts Shane Kimbrough and Megan McArthur, along with Akihiko Hoshide of Japan and the European Space Agency's (ESA) Thomas Pesquet, will say goodbye to their crewmates on the orbital outpost Sunday and board their Crew Dragon capsule, named Endeavour, for the trip back to Earth. Splashdown set for Monday night at 10:33 p.m. EST (0333 GMT).
You can watch it all live here and on the Space.com homepage, courtesy of NASA TV. Coverage will begin at 11:45 a.m. EST (1645 GMT) Monday, drop off after hatch closure, and then pick up again at 1:45 p.m. EST (1845 GMT) for departure. Coverage will be continuous from then until splashdown, NASA officials said.
The hatches between Endeavour and the station are scheduled to close at 12:40 p.m. EST (1740 GMT) on Sunday, with undocking following at 2:05 p.m. EST (1905 GMT). The capsule will splash down off the coast of Florida early Monday evening (Nov. 8), if all goes according to plan.
This timeline is still tentative, however. NASA and SpaceX officials said that the weather remains a big factor in when the crew can come home, with the final "go/no go" call happening only a few hours before Endeavour is scheduled to undock. If the weather is too poor at all of the seven potential splashdown sites, mission team members will target a backup window on Monday for both undocking and splashdown.
"We'll keep crossing our fingers there on the weather," Sarah Walker, SpaceX's director of Dragon mission management, told reporters during a news briefing on Saturday (Nov. 6). NASA and SpaceX plan to bring Endeavour down in the Gulf of Mexico, rather than in the Atlantic Ocean, Walker added.
According to Walker, surface wind speeds at the candidate splashdown sites are currently slightly above the threshold that allows crews to land safely. Teams are proceeding toward undocking at 12:04 p.m. EST (1704 GMT) on Sunday but will reassess everything early Sunday morning. At that time, if the winds have died down enough that the crew can land safely, the teams will proceed as planned. If not, they will target the backup attempt for undocking on Monday.
The Crew-2 astronauts had been scheduled to do a fly-around maneuver after undocking, in which they circle the space station in the Dragon capsule and take photos. This activity was designed to allow crews and folks on the ground to inspect the aging space station's exterior and see if there are any areas that need attention.
"This is a procedure that we used to do with the space shuttle back in the day," Pesquet told reporters on Friday afternoon (Nov. 5) during a media briefing. "The reason is because we don't have that many opportunities to see the station from outside."
'Cannibal' sun eruption gives departing astronauts their best aurora views yet
November 8th, 2021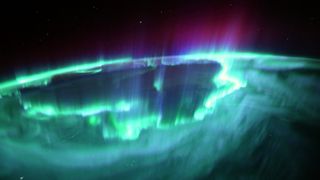 Astronauts bidding farewell to the International Space Station enjoyed the most spectacular aurora display of their entire mission over the weekend after a massive blast of material from the sun reached our planet.
The sun has been acting out lately, waking up to its new period of activity after years of quietness. This variation is part of the sun's regular 11-year cycle, the little understood ebb and flow of sunspots and solar flares that is next expected to peak in 2025.
"We were treated to the strongest auroras of the entire mission, over North America and Canada," European Space Agency's astronaut Thomas Pesquet tweeted with a mesmerizing photo of greenish glow. "Amazing spikes higher than our orbit. Star-struck, and we flew right above the centre of the ring, rapid waves and pulses all over."
The spectacle must have been quite something since astronauts do get treated to aurora displays fairly regularly. Pesquet himself has shared many images of the magnificent polar lights on his Flickr account since his arrival at the orbital outpost with SpaceX Crew-2 in April.
The latest aurora display was triggered by a series of coronal mass ejections, bursts of magnetized plasma that the sun blasted out last week within a short period of time. The second outburst, travelling a bit faster than the first one, cannibalized its predecessor on the way, resulting in a much more powerful plasma cloud than originally expected.
Auroras occur in Earth's atmosphere when magnetized plasma particles from the sun hit Earth's magnetic field, creating a temporary magnetic havoc around the planet. In addition to providing the glowing spectacle the magnetic storms can damage satellites and knock out power grids. The worst geomagnetic storm in recorded history, the so-called Carrington Event of 1859, disabled telegraph networks all over Europe and North America.
1 year after launch, NASA's Perseverance rover prepares to collect 1st sample on Mars
July 30th, 2021
It's been quite an eventful year for NASA's Perseverance rover.
The car-size robot and its little partner, the Ingenuity helicopter, launched toward the Red Planet one year ago today (July 30) and touched down inside the 28-mile-wide (45 kilometers) Jezero Crater on Feb. 18.
Six weeks after landing, Ingenuity deployed from Perseverance's belly and began a monthlong technology-demonstrating flight campaign, which the rover supported and documented. The 4-pound (1.8 kilograms) chopper performed so well that NASA extended its mission, and Ingenuity now has 10 Red Planet flights (and counting) under its belt.
Meanwhile, Perseverance recently wrapped up its Ingenuity-shepherding work and began focusing in earnest on its own science mission. That mission features two main tasks: hunting for signs of ancient life in Jezero, which hosted a lake and river delta long ago, and collecting and caching dozens of samples.
The pristine Mars material that Perseverance packs away will be brought to Earth by a joint NASA-European Space Agency campaign, perhaps as early as 2031. Scientists in labs around the world will then pore over the samples, looking for evidence of Mars life and clues about the Red Planet's history and evolution.
Perseverance is now gearing up to collect the very first of these samples. The rover is scouting out targets in a geologically interesting part of Jezero that the mission team calls "Crater Floor Fractured Rough."
"My first rock sampling location is just ahead. This spot will be my 'office' for the next week or two," Perseverance team members wrote Thursday (July 29) in a Twitter post that featured a photo of its current environs.
The coming sample snag will be an involved affair. Perseverance will study its chosen target in detail with a variety of instruments before actually collecting material, in a multistep process that will take about 11 days from start to finish.
NASA to design new 'Earth System Observatory' as part of national push against climate change
May 25th, 2021
NASA will design new, Earth-focused missions to support our growing understanding of climate change and provide important information to those on Earth impacted by its effects, the agency announced May 24 as part of a new Biden administration plan to "enhance climate resilience."
The Biden administration, prior to meeting with climate and homeland security team members on May 24, announced earlier that day in a White House release that it will support the development of NASA's new "Earth System Observatory" — a series of next-generation climate data systems that will be used to better track climate change and its impact on communities around the world.
Additionally, the administration plans to allocate $1 billion in "pre-disaster mitigation resources," for communities impacted by "extreme weather events and other disasters," all as part of a new plan to "enhance climate resilience," according to a White House statement. The announcement did not include any information about budget or timelines for the observatory program.
Mars may still be volcanically active, study finds
May 12th, 2021
Evidence of what may be the youngest eruption seen yet on Mars suggests the Red Planet may still be volcanically active, raising the possibility it was recently habitable, a new study finds.
Most volcanism on Mars occurred between 3 billion and 4 billion years ago, leaving behind giant monuments such as Olympus Mons, the tallest mountain in the solar system. At 16 miles (25 km) high, Olympus Mons is about three times as tall as Mount Everest, Earth's highest mountain.
Previous research suggested the Red Planet may still have flared with smaller volcanic eruptions as recently as 2.5 million years ago. Now scientists have found evidence that Mars may still be volcanically active, with signs of an eruption within the past 50,000 years or so.
"This being the youngest documented volcanic eruption on Mars, the potential that Mars could potentially be volcanically active at present is exciting," study lead author David Horvath, a planetary scientist now at the Planetary Science Institute in Tucson, Arizona, told Space.com.
Fireball meteor burns up over South Florida
April 13th ,2021
A sparkling fireball zoomed across the sky near West Palm Beach, Florida on Monday night (April 13), and local news teams and home security systems caught footage of its dramatic descent.
The meteor was spotted at about 10 p.m. EDT, when it tumbled from the sky and disintegrated in a sudden flash of light, NPR reported.
Soon after, Jay O'Brien, a reporter for CBS News in West Palm Beach, tweeted a video of the fireball exploding in midair. His colleague Zach Covey, a meteorologist for CBS, responded saying that the fireball was likely a "chunk of an asteroid known as 2021 GW4," a space rock that was due to pass by Earth that night.
WOAH! Big flash and streak across sky in West Palm Beach. Happened moments ago while we were on Facebook Live for a @CBS12 story. Working to figure out what it was.
The asteroid, estimated to be about 14 feet (4 meters) across, passed the planet about 16,300 miles (26,200 kilometers) away, according to Space.com. The asteroid will now make a two-year loop around the sun, eventually swinging back around to Earth; however, NASA predicts that it won't come nearly as close as it did on April 12 for at least another century.
Although 2021 GW4 made a relatively close pass by the planet, Jonathan McDowell, an astronomer at the Harvard-Smithsonian Center for Astrophysics, disagreed with Covey's theory, tweeting that "It's a normal fireball and nothing to do with GW4."
Generally speaking, fireballs include any meteor that shines at least as brightly as the planet Venus in the sky, according to Space.com; fireballs actually fall to Earth every day but most go unnoticed, falling over uninhabited areas, during the day or under cloud cover, according to the International Meteor Organization, an international non-profit.
NASA's Mars helicopter is slowly unfolding beneath the Perseverance rover
March 30th, 2021
NASA's Perseverance rover is slowly getting ready to deploy the first helicopter on Mars even as it takes a look back at the litter it's dropping on the Red Planet.
The rover, which was carefully sterilized on Earth to avoid contaminating Mars with microbes, dropped a protective debris shield onto the planet's surface on March 21. The shield is no longer needed as it was designed to protect Ingenuity during the "seven minutes of terror" landing in February.
An image from the WATSON (Wide Angle Topographic Sensor for Operations and engineering) camera on the rover's robotic arm shows the debris shield safely on the surface of Jezero Crater, between the rover's six wheels. It's the second thing Perseverance dropped in recent weeks, after an unneeded belly pan relating to its sampling system.
SpaceX may try to launch its Starship SN11 rocket prototype today
March 29th, 2021
The 5-hour launch window opens at 1 p.m. EDT (1700 GMT).
SpaceX may attempt to launch its newest Starship rocket prototype today (March 29) and you'll be able to watch it live if it happens.
The Starship SN11 rocket could try to launch from SpaceX's Starbase test site near Boca Chica Village in South Texas between 1 p.m. and 6 p.m. EDT (1700-2200 GMT), according to Texas officials. The rocket is expected to launch to an altitude of 6.2 miles (10 kilometers) and then attempt a landing.
"Possible Starship flight tomorrow afternoon," SpaceX CEO and founder Elon Musk wrote on Twitter Sunday. If SpaceX does attempt a launch, you'll be able to watch it here and on the Space.com homepage, courtesy of SpaceX. You can also watch it directly from SpaceX here and on YouTube. SpaceX's webcast usually begins about 5 minutes before a Starship launch attempt.
Today's potential Starship SN11 launch follows an earlier attempt on Friday (March 26), when SpaceX test-fired the rocket's three Raptor engines but opted not to attempt a launch in order to allow time for extra checks on the vehicle.
"Doing our best to land & fully recover," Musk said at the time.
NASA Provides $45M Boost to US Small Businesses
March 29th, 2021
Small businesses are vital to NASA's mission, helping expand humanity's presence in space and improve life on Earth. NASA has selected 365 U.S. small business proposals for initial funding from the agency's Small Business Innovation Research (SBIR) and Small Business Technology Transfer (STTR) program, a total investment of more than $45 million.
"At NASA, we recognize that small businesses are facing unprecedented challenges due to the pandemic," said Jim Reuter, associate administrator for the agency's Space Technology Mission Directorate (STMD). "This year, to get funds into the hands of small businesses sooner, we accelerated the release of the 2021 SBIR/STTR Phase I solicitation by two months. We hope the expedited funding helps provide a near-term boost for future success."
NASA selected 289 small businesses and 47 research institutions to receive Phase I funding this year. More than 30% of the awards will go to first-time NASA SBIR/STTR recipients. "We are excited to have a large cohort of new small businesses join the NASA family via the SBIR/STTR program," Reuter said.
Through the program, NASA works with U.S. small businesses and research institutions to advance cutting-edge technologies. The agency provides up to $125,000 for companies to establish the merit and feasibility of their innovations. Phase I SBIR contracts are awarded to small businesses and last for six months, while Phase I STTR contracts are awarded to small businesses in partnership with a research institution and last for 13 months. Based on their progress during Phase I, companies may submit proposals to subsequent SBIR/STTR opportunities and receive additional funding.
NASA selected proposals to receive funding based on their technical merit and commercial potential. The selections span the breadth of NASA missions to empower the agency's work in human exploration, space technology, science, and aeronautics. Some examples include:
Syrnatec Inc., a woman-owned small business and first-time NASA SBIR awardee based in Middletown, Connecticut, will develop radiation tolerant, high-voltage, high-power diodes. This power management and distribution technology could enable the next generation of efficient high-power green technology in space and on Earth.
Innoveering LLC, a Hispanic American-owned small business and first-time program awardee based in Ronkonkoma, New York, will use its SBIR award to develop a wind sensor to enable a flight path control system for high-altitude scientific balloon operations. Outside of NASA, this technology could aid in providing more accurate weather predictions.
Under an STTR award, Qubitekk of Vista, California, will partner with the University of New Mexico, a Hispanic-Serving Institution. Together, they will develop a cheaper and more compact hardware package that provides a reliable calibration tool for detectors of quantum-sized information. This technology could be applied to secure satellite communication networks, deep-space laser communications, cybersecurity, and computing.
First image of a black hole gets a polarizing update that sheds light on magnetic fields
March 24th, 2021
Following the mind-boggling release of the first image ever captured of a black hole, astronomers have done it again, revealing a new view of the massive celestial object and shedding light on how magnetic fields behave close to black holes.
In 2019, the Event Horizon Telescope (EHT) collaboration produced the first-ever image of a black hole, which lies at the center of the M87 galaxy 55 million light-years from Earth. The image showed a bright ring with a dark center, which is the black hole's shadow. In capturing this image, astronomers noticed a significant amount of polarized light around the black hole. Now, the collaboration has revealed a new look at the black hole, showing what it looks like in polarized light.
Polarized light waves have a different orientation and brightness compared with unpolarized light. And, just like how light is polarized when it passes through some sunglasses, light is polarized when it's emitted in magnetized and hot areas of space.
As polarization is a signature of magnetic fields, this image makes it clear that the black hole's ring is magnetized. This polarized view "tells us that the emission in the ring is most certainly produced by magnetic fields that are located very close to the event horizon," Monika Moscibrodzka, coordinator of the EHT Polarimetry Working Group and assistant professor at Radboud Universiteit in the Netherlands, told Space.com.
This is the first time that astronomers have been able to measure polarization so close to the edge of a black hole. Not only is this new view of this black hole spectacular to look at, but the image is revealing new information about the powerful radio jets shooting from M87.
"In the first images, we showed intensity only," Moscibrodzka said about the first-released image of the object. "Now, we add polarization information on the top of that original image."
"The new polarized images mark important steps towards learning more about the gas near the black hole, and in turn how black holes grow and launch jets," Jason Dexter, Assistant Professor at the University of Colorado Boulder and coordinator of the EHT Theory Working Group, told Space.com in an email.
WESTFIELD, Ind. —  A massive development is being planned for Westfield, right next door to Grand Park. "Grand Universe" will be a state-of-the-art space center with the goal of encouraging young minds to pursue careers in science and technology.
The development is being led by Birch Dalton with EdgeRock Development, but the space center project is being launched by the Link Observatory Space Science Institute and their director Greg McCauley
"If you look right out there in the middle," McCauley said as he pointed to an empty 55-acre plot of land, "right in the center of that field right there will be this magnificent 50,000 square foot footprint of this magnificent building."
The massive space center will not only include the largest public planetarium in the state, but also thousands of square feet of exhibits and a massive observatory with 30-foot domes and telescopes named after Hoosier astronaut David Wolf.
"17 or 18 astronauts came from Purdue university, and yet Indianapolis remarkably is one of the largest metropolitan areas in the country that doesn't have a space center," McCauley said
Since the Challenger Learning Center in Brownsburg closed about seven years ago, Grand Universe will fill a void left in central Indiana, launching students into STEM careers.
"We have fallen behind in science and technology," McCauley said. "We believe Grand Universe will help us again take that leap."
Grand Universe hopes to attract young families who are in town for events at Grand Park, and also attract families from across the state. Westfield sees the project as another reason for people to visit the area.